If you aren't familiar with Astronest The Beginning, you can check out my review of the game from last year. It's a deceptively complicated mobile title where you develop a mighty space fleet and do battle with aliens and human rivals.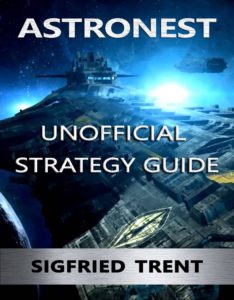 This is my second guide, and I've made some real strides forward in getting the e-book formatting to look almost exactly the same as the PDF. The guide clocks in at 115 pages and will guide players from level 1 to 100, ensuring they dominate the competition all the way to the top.
Unlike my last strategy guide, Astronest already has a pretty vibrant online community and a few websites that offer a lot of information on the game. What makes my strategy guide different is that I've created it as a holistic guide to playing, rather than a source of reference information. The leveling guide helps you learn game concepts in an order that makes the most sense and tells you what you need to know when you need to know it.
Note: I stopped updating the guide in 2018 but the game is still live so my guide is now out of date.
You can get the PDF version on HERE
You can get the Amazon E-Book version on Amazon here or in your Kindle Reader.
If you are willing to exchange a review on Amazon for a copy of the guide, feel free to contact me.